HELLO MADAM
CALIFORNIA RED BLEND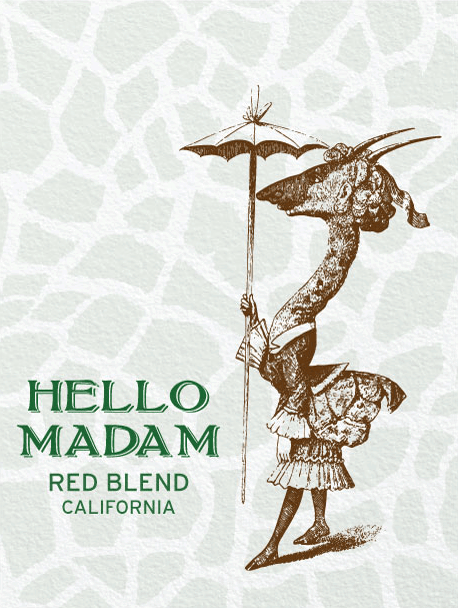 Inspired by the world-famous red blends of Southern France, the team at Hello Madam scoured the celebrated vineyards of California's coastal valleys to find the ingredients for a wine that challenges the very best of what the Old World can do. The result is a polished, fruit-forward, brazenly opulent red blend equally at home beside croissants and berets as burgers and baseball caps.
FOOD COMBINATIONS
Blind Date California Zinfandel pairs well with:
Barbecue

Pizza

Burgers

Fettuccine Carbonara
ABOUT THIS WINE
PERSONALITY: Lavish, sumptuous, copious and ample
​
COLOR: Intense dark violet
NOSE: Strawberry jam, red plum, cocoa, smoke
PALATE: Deep and wide, like a vinous chasm. An amply flavored palate focused on jammy red fruit leads to a focused, structured finish that hints at spices and barrel char.
TERROIR: Warm inland valley

GRAPES: 20% Cabernet Sauvignon, 17% Merlot, 13% Zinfandel, 12% Petite Sirah, 12% Petit Verdot, 8% Pinot Noir

ALC: 13.9%

SERVING TEMP: 61-64° F
TASTE PROFILE: Intense and concentrated
What did you think of this wine? Share your thoughts on social media by using the buttons below.

#WineLover24Pack